NEW!! SENTRY DRUG T-SHIRTS 12.99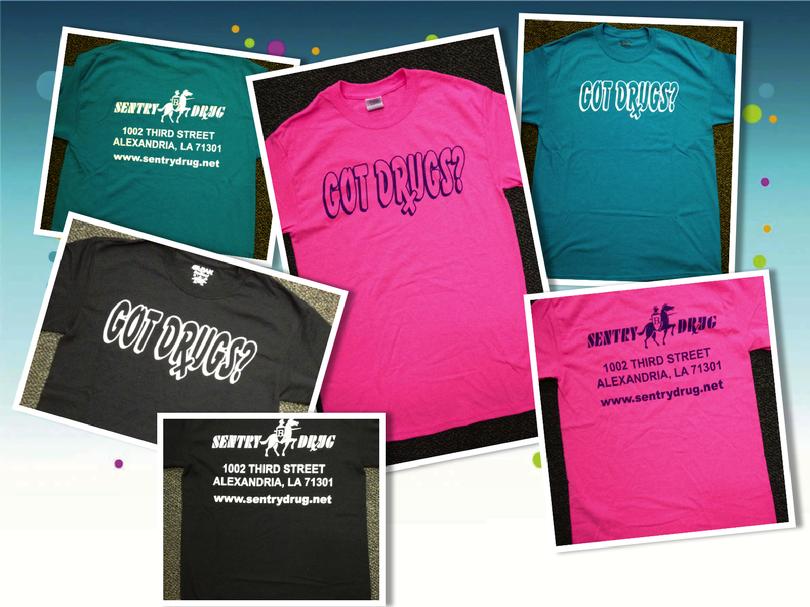 SENTRY GOT DRUGS? T-SHIRTS
Tired of Being Just a Number?
You Should Fill Your Prescriptions With Us!
FAST, PERSONALIZED, FRIENDLY SERVICE
FREE PRESCRIPTION DELIVERY, INCLUDING NURSING HOMES
LOCALLY OWNED & OPERATED FOR 40 YEARS



PHARMACISTS:

VICKI ALLEN

ROSS FREEMAN



SENTRY GRILL

featuring

HOME COOKING BY LINDA

Grill Hours of Operation:

MONDAY—FRIDAY

7:30 AM 'TIL 3:30 PM



SENTRY GRILL FEATURED ON KALB-TV'S "DOWN HOME LOUISIANA"
Sentry Drug owner--and author--Vicki Allen featured in Southern Writers Magazine. To read article, click link below. For full online editons of Southern Writers Magazine and subscription info, click cover image.




Southern Writers Magazine May 2012


Vicki Allen, Southern Writers Magazine (PDF)
SENTRY DRUG
1002 THIRD STREET
ALEXANDRIA, LA 71301
318-442-4475
HOURS
M-F 8:30 AM — 5:30 PM
SATURDAY 8:30 AM — NOON
Guardian of Your Health